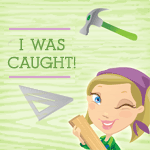 Gail at My Repurposed Life, featured my Shamrock Home project! Woo-Hoo! If you have not been over there (where have you been?), you MUST go check out her blog…she is an absolute GENIUS. Her mad skills in woodworking leave me in awe every single time. Not only that, she is one of the kindest and most generous people ever…when I first started my blog, she offered help, and when I took her up on the offer, she did everything she could to answer my questions, and solve the problems I was having. She is truly a blessing! ( Thanks Gail!!!)
I've just started going to the gym (after a one year hiatus), and let me tell you-I am in PAIN today! oh my…everything hurts and I'm exhausted! So, while I 'm getting some projects (crafty ones) going, it may be awhile before I post them. I'm hoping to be back to normal (minus the aches and pains) soon. I really am getting older, huh? Some days I am in denial and feel like I'm still 27 (yes, that's young to me, LOL), but after today's workout, I'm feeling every one of my years! UGGGGGHH.
Thanks for stopping by!