I finally finished my 2 x 2 flag, and wanted to make it a little bit different from everyone else's, so I added the phrase at the bottom, to match a phrase on my (new) wood fireworks. If you remember, my first wood firework set left me wanting something more…I couldn't put my finger on it, but I knew they needed something…well, this is what I came up with, and I LOVE it!!
I was really just playing around when I tried the phrase on the firework. First, I painted them all white, then I added scrapbook stickers to say "because of the Brave", then I painted it blue. Once it was a bit dry I removed the stickers, and my phrase was there! I was shocked, to be honest, because I really had no idea what I was doing. To finish them, I distressed and stained them. I love how old and rustic they turned out. Then, when I thought about my flag, I really wanted the first part to the sentiment "land of the free", but again, wasn't sure how to go about it. This time, I wanted it to be a bit more obscure, and barely noticeable. Well, it didn't turn out quite as obscure as I wanted, but I still like it. I simply added the stickers before I painted it white, then removed the stickers, distressed and stained, just like before. Even though my dad never served during a war (thank you Lord), he was a Marine, and I have always been proud of that. I am so thankful for all the men and women who serve our country, and for their families who shoulder the sacrifice daily. This set keeps their commitment and sacrifice close to my heart every time I see it.
I love your comments, and look forward to each one. Please let me know you were here, and if you want, leave a link to your blog, so I can visit you in return!
I'm linking up:
Someday Crafts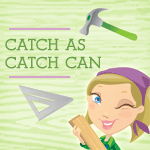 My Repurposed Life