HI! I hope everyone had a wonderful holiday! We relaxed, ate, watched fireworks, comforted the dogs, and had fun!
While visiting Someday Crafts a few days ago, I saw this project by guest blogger Kelly from Running with Glitter and knew I had to try it. It looked so easy, and so very cute. So, today while I was at Target I picked up 2 packages of water balloons, knowing that if I gave the kids a whole package, I'd probably have enough quiet time to finish this off. So here is my version:
and here is how it started:
Water balloons, flip flops, string, (Diet Coke and Hot Tamale flavored Cotton Candy weren't needed for this project, but made me oh-so-happy!).
I tied 4 water balloons together with string, then used the 'tails' of the string to tie them onto the flip flops. I then tied one water balloon around the bundle, to cover the string. I tried it Kelly's way, but kept breaking the balloons, so I had to improvise! I think I ended up using 4 bundles on each side of each flip flop. Because my little choo-cha has Fred Flintstone feet, I didn't go all the way down the straps. As it is, they are now a bit snug for her to get on (I bought her 2 pairs, and the other pair goes on fine, so I'm glad I quit when I did!). They are so cute, she calls them her "party shoes". And, like Kelly did, I wanted to make a coordinating hair accessory, but since I didn't have a barrette, I used a rubber band (ok, not a rubber band like you have around your newspaper,but I'm having a brain fart and cannot remember the name of it! It's a little covered one…can anyone help here???) and tied 8 water balloons around one side. That way, I can still put it in her hair easily.
I think I might just make myself a pair of those flip flops! And, what I really love is that all the fun colors make them match just about anything in her wardrobe!
Thanks for stopping by!
I'm linking up to some fun parties, go check it out:
House of Hepworth's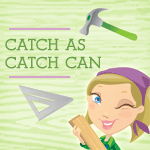 My Repurposed Life