I love this block set…I just wish I had a mantle to put it on! I made these blocks double sided, so you can use them longer. The first side has "FROSTY the Snowman"
and the other side has "GOBBLE til ya wobble".
I first saw that saying on Etsy at Summersscrap's shop and loved it so much, I had to make one.
This is a fairly simple project, and unfortunately I didn't take step by step pictures, but it is pretty self explanatory (if you want to make some and have questions, contact me!). First, I bought a 2x4 at Home Depot and using my miter saw, cut it to various lengths (if you don't have a miter saw, Home Depot will make the cuts for you…unless you get the chubby grumpy guy at my HD, because he refuses to cut my wood EVERY.STINKING.TIME! Anyway, after they're cut, sand them, spray paint them, mod podge some cute decorative paper, and once the mod podge dries, add vinyl (or stencil and paint, or cardstock letters, whatever you have available). You can then embellish to your heart's desire. For mine, I sprayed the "Frosty" side with glitter spray and added big, pretty gems. For the "Gobble" side, I just made up little embellishments by raiding my Fall decorations, and hot glued them on. I love how it turned out. Sadly, (for me) this set is going to the Holiday Bazaar, so I'll have to make myself one next year. The possibilities for this project are endless. You can put any combination of words together, to fit your taste, décor, holiday theme, etc. Truly the hardest part for me was deciding between "Frosty the snowman" or "Silent night, holy night" for the side opposite of Gobble.
Thank you so much for stopping by! I appreciate your comments and love the chance to visit your blog.
I'm linking up: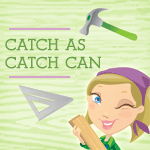 at Gail's fabulous party, over at My Repurposed Life